The K. Lynne Moritz, MD, Leadership Award
NOMINATIONS OPEN FOR THE K. LYNNE MORITZ LEADERSHIP AWARD
Nominations for the K. Lynne Moritz, MD, Leadership Award are now open.  Anyone with direct knowledge of the work done by the nominee can submit a letter of nomination.  Deadline is April 10, 2023.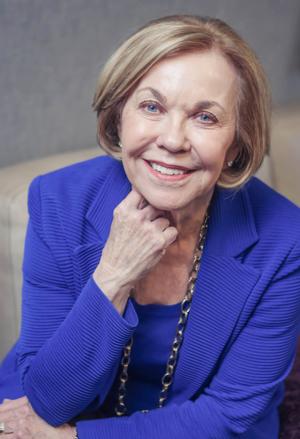 K. Lynne Moritz was one of the Institute's first graduates. At the time she arrived at the Institute, there were skeptics that could have deterred her from integrating a wave of research that is true to this day: An adult caring for a child can influence the structure of a child's brain as it matures. Moritz was an early believer and devoted her full attention to research and the needs of her patients.
Over the years, she has served as an adjunct associate professor and lecturer at Washington University in St. Louis and served as clinical professor of psychiatry at St. Louis University School of Medicine. Moritz served as president of the Eastern Missouri District Branch of the America Psychiatric Association. She has also served as president of the St. Louis Metropolitan Medical Society, president of the American Psychoanalytic Association and medical director of the Institute.  She is currently an active Full Faculty member.

The Institute's former executive director, Cathy Krane, has nothing but praise for Moritz: "She has been and continues to be a leader in psychoanalysis locally, nationally and even internationally," Krane says. "It's wonderful to have worked with her for so many years. I can say firsthand that she's an incredible leader."
The K. Lynne Moritz, MD, Leadership Award
I.  Purpose of the Award
To encourage faculty to take leadership positions

To recognize emerging faculty leaders, highlighting their activities and talents

To promote board /faculty collaboration
II.  What is leadership?
Leadership is a service to others, an honor as well as a responsibility.  Strong leaders put the good of the group, program or Institute before their own needs or benefits.  A leader trusts and empowers others to achieve common values, beliefs or goals.
III. Leadership qualities, values and activities may include:
Innovation

Sensitivity to differences

Creativity

Leadership development

Recruitment

Integrity

Inclusion

Curriculum development

Conflict resolution

Program management

Responsiveness to the community

Communication skills                                                                           
IV.  Eligibility
All Full or Special Faculty, Candidates and Advanced Candidates of the Institute who are not currently and never have served as an officer on the Institute or Society Board of Directors.
V.  Award Committee
The Committee will consist of the four most recent Chairmen of the Board and K. Lynne Moritz or her representative. The Award Committee will consider all nominations and submit their choice of honoree to the Executive Committee at their April Meeting.  Nominations will be confidential and remain valid for two award cycles.
VI. The Award
One winner will be awarded each year and recognized at the Graduation.  They will receive:
A $250 check

$1,000 budgeted for next fiscal year to the psychoanalytic program of their choice. Use of $1,000 is to be determined by awardee but within the normal parameters of that program. (i.e. Sponsor a speaker, social event, scholarship, professional development). The $1,000 award may be used to support a psychoanalytic program sponsored by any organization, business, club or school.
2018: Edmund Sprunger, MSW, LCSW
2019: Chester Smith, MEd, LPC
2020: Tina Marie Dale, LCSW
2021: Juliana Varela, MSW, LCSW
2022: Matt Shatzman, MA, LPC
Any questions, please contact the Institute, 314-361-7075